RESIST Tony Evers Capitol Christmas Parade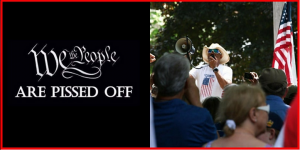 RESIST Tony Evers Capitol Christmas Parade
11:00 AM December 12, 2020
We The People have had enough and will not allow Tony Evers to steal Christmas from the people of the State of Wisconsin!
About this Event
We The People of Wisconsin will have Christmas!!
Join us and Sheriff David Clarke in Sticking it to Tony Evers on December 12!! We The People will not allow him to play the Grinch & steal CHRISTmas from The People of WISCONSIN!! We are bringing the MAGA CHRISTmas parade & The People to celebrate Christmas the way it was meant to be celebrated!! Donald J. Trump brought CHRISTmas back and Wisconsin deserves to celebrate it MAGA style!! Grab either a ticket to drive or a ticket to rally, and join us on 12-12-20!! Don't forget to bring your Stars & Stripes, TRUMP flags, Gadsden flags, etc. BE A PART OF HISTORY!!
We welcome The People to bring a tree, decorations, nativity scenes, or whatever to make it MAGA-merry!! We The People have had ENOUGH & are PISSED OFF!!
Order 1 ticket to drive per vehicle if you wish to join us on wheels.
Order 1 ticket to rally per person if you will be on foot